Occasionally I like to do an assignment from a program called Polished Cornerstones. I don't know if you've heard of it before, but I highly recommend it. It's a study on what the Bible says about women, etc.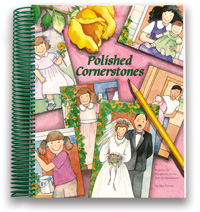 Anyway, my Polished Cornerstones assignment today was to study the Proverbs 31 woman. One of the categories was what that chapter says about her relationship with her husband.
I kind of expanded on it, taking what I found and drawing from other sources in the Bible.
She does him good and not evil all the days of her life- BEFORE and AFTER marriage. She prepares for marriage by praying for him, by not obsessing about who he may be and when he may come, by keeping her body and mind pure, etc.
He trusts her -She guards their relationship, as a keeper of the home; He will have no need of spoil because she guards their money carefully; He has no lack of gain; She guards their time, her mouth, and he can trust that she will follow him and won't argue with or shut down everything he suggests or says!
She is a woman who fears the Lord- and as a result, so that the Word of God(Jesus) is not dishonored, she submits to and follows her husband in the Lord. She is a keeper of the home and loves her children, too. Her home and family is her major priority.
Her husband is seen in the gates- she promotes and builds him up; helping him to advance God's domain. She is not seeking places of leadership in the gates, etc, instead, she supports her husband in all God has called him to do and be. As she does that, she is being what God has called her to be. :) She encourages him, helps him, and builds him up. As a result, her works praise her in the gates. Behind every great man is a praying/supporting woman.
Her husband praises her and acclaims her. God knew it was not good for him to be alone- her husband needs her, loves her, protects her, and cherishes her!
More to come!
God bless,
Abbie :)

[Edit: Okay...so I haven't posted the "more to come." that's because I got sidetracked! SOOO...just so you know. Thanks for reading!]